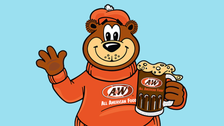 A soft consume company's joking tweet about its mascot's garments choices seemingly caught Fox Information with its pants down.
On Tuesday, A&W Root Beer declared on Twitter that Rooty the Fantastic Root Bear would start off putting on trousers.
The put up appeared to be a jesting reference to a the latest decision by chocolate manufacturer M&M's, which put its "spokescandies" on "indefinite pause" following conservative varieties like Fox's Tucker Carlson griped that the environmentally friendly M&M character was now sporting tennis shoes rather of go-go boots.
The A&W tweet read through, in aspect: "America, let us discuss. Since 1963, Rooty the Excellent Root Bear has been our beloved spokesbear. We understood folks would discover because he's basically a 6-foot tall bear donning an orange sweater."
It included, "But now we get it — even a mascot's deficiency of pants can be polarizing."
Contemplating that a lot of corporate figures — like Poppin' Refreshing, Chester Cheetah and the Geico Gecko — have long opted to go pantless, A&W's social media staffers possibly believed most persons would acknowledge the tweet as a gag.
But the joke was on them, because Fox News assumed it was genuine and claimed the announcement as but yet another indicator of "woke police cancel culture" operate amok.
Ultimately, A&W felt obligated to explain that the tweet was a prank following Fox Organization revealed a tale with this sensationalized headline: "FUR COAT AND NO KNICKERS: A&W Root Beer is the newest enterprise bowing to 'woke.'"
As a final result, Fox Organization then altered its headline to reflect the jokey mother nature of the soda company's announcement.
In the meantime, Twitter users mocked the overreaction to the pantless bear article.
The Fort News