More than 107,000 people died from drug overdoses in the U.S. during the second year of the pandemic, setting a new tragic record, according to an estimate from the Centers for Disease Control and Prevention.
Meanwhile, North Korea has reported 27 COVID-19 deaths in its first acknowledged outbreak as officials scramble to contain the spread among the estimated 26 million people in the country who are largely unvaccinated.
We're updating this page with the latest news about the COVID-19 pandemic and its effects on the Seattle area, the U.S. and the world. Click here to see the rest of our coronavirus coverage and here to see how we track the daily spread across Washington.
Navigating the pandemic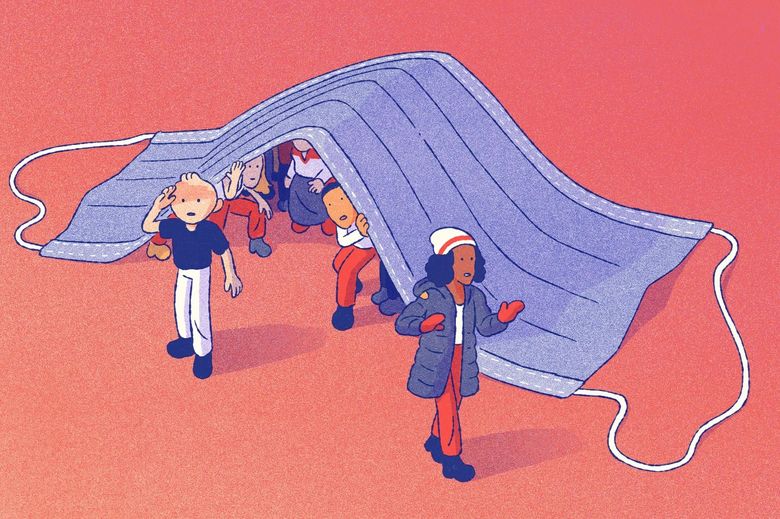 7:25 pm
It's not just elderly still dying from COVID in Tri-Cities, weekly death report shows
Three more residents of the Tri-Cities area have died from complications of COVID-19, and it is not only the elderly who are dying.
The deaths announced this week by the Benton Franklin Health District were of two men in their 40s and a man in his 50s.
They come as the death toll from COVID in the nation reaches 1 million people.
The latest Tri-Cities deaths were despite low rates of confirmed disease in Benton and Franklin counties and low numbers of hospital patients with COVID.
Although numbers are low, they have increased over the past month.
—Annette Cary, Tri-City Herald
6:15 pm
'Another unequal burden': working with long COVID-19
After graduating in the spring of 2020, Clare Banaszewski landed her dream job as a nurse practitioner in a maternity ward at a hospital in Omaha, Nebraska.
That winter, Banaszewski, 24, contracted the coronavirus. It was a mild case, and she bounced back after two weeks. But it wasn't long before she started feeling new symptoms: She was overcome with fatigue, struggling to make it through her 12-hour shifts, which used to fly by. She felt heart palpitations, suffered from cognitive problems and had severe headaches — telltale symptoms of a condition known as "long COVID."
She took three months of medical leave and started back with shortened, six-hour shifts. Even those were too much. Her manager was understanding, but she eventually told Banaszewski that the hospital would need to hire a replacement. Banaszewski resigned six months ago. She has been unemployed since.
"It's scary," she said. "I have a lot of student loans I'm trying to figure out how I'm going to pay off. I don't really have much to fall back on."
Banaszewski is one of at least 7 million people in the United States, by one estimate, who are unable to work full time or who have had to scale back their work because of long COVID-19, which is defined as when COVID symptoms persist weeks, months or even years after the initial onset of an infection.
—Jenny Gross, The New York Times
5:30 pm
How America lost 1 million people
The magnitude of the country's loss is nearly impossible to grasp.
More Americans have died of COVID-19 than in two decades of car crashes or on battlefields in all of the country's wars combined.
Experts say deaths were all but inevitable from a new virus of such severity and transmissibility. Yet, 1 million dead is a stunning toll, even for a country the size of the United States, and the true number is almost certainly higher because of undercounting.
It is the result of many factors, including elected officials who played down the threat posed by the coronavirus and resisted safety measures; a decentralized, overburdened health care system that struggled with testing, tracing and treatment; and lower vaccination and booster rates than other rich countries, partly the result of widespread mistrust and resistance fanned by right-wing media and politicians.
—The New York Times
4:25 pm
How a tumultuous school year for Seattle students sparked a movement to demand change
Over the course of the pandemic, Seattle students have endured online classes, missed out on senior-year milestones, scrambled to adjust for last-minute school cancellations, and lived through dramatic spikes in COVID-19 cases at schools.
All the uncertainty and fear brought them together.
They formed a new group, the Seattle Student Union, to fight for change and equity, organized shortly after winter break ended — when COVID cases were at an all-time high.
"It was clear the district wasn't going to do enough" to protect students from the virus, said Natalya McConnell, a Seattle Student Union co-founder and sophomore at Franklin High School. At one point, Franklin had the highest number of cases in the district.
—Monica Velez
3:36 pm
Kansas Gov. Laura Kelly vetoes GOP bill aimed at banning all future mask mandates
KANSAS CITY, Mo. — A Kansas bill that would ban mask mandates from any government institution on any public health matter is circling the drain following a veto from Democratic Gov. Laura Kelly.
Kelly announced the veto late Friday on the grounds that the legislation would constrain public health authorities from responding to outbreaks of any illness.
"I have consistently opposed vaccine passports and mandating any COVID-19 vaccination. However, this bill goes beyond COVID-19 and implements a one-size-fits-all approach for all infectious diseases. It significantly limits any government entity's response to any infectious disease outbreak," Kelly said in a veto message.
—Katie Bernard, The Kansas City Star
2:05 pm
More than 20 states press judge to continue migrant expulsions
LAFAYETTE, La. — Lawyers for 24 states critical of the Biden administration's immigration policies argued Friday for a nationwide injunction to maintain the swift expulsions of migrants under a pandemic-related public policy, and a federal judge said he planned to issue an order before the policy is set to be rescinded May 23.
Judge Robert R. Summerhays of the U.S. District Court for the Western District of Louisiana did not say how he would rule, but he has previously been supportive of the arguments brought by the 24 mostly Republican-led states to force the measure, known as Title 42, to remain in place.
—Katy Reckdahl and Miriam Jordan, The New York Times
12:37 pm
As USA Games near, some Special Olympics athletes in limbo over COVID vaccination policy
ORLANDO, Fla. — Isabella Valle cried in joy last summer when she learned she'd earned a spot at the 2022 Special Olympics USA Games, being held in Orlando. But with opening ceremonies less than a month away, the 25-year-old golfer's tears are now out of frustration and disappointment.
Her mother, Elaine Valle, received an April 22 email from Special Olympics International saying that COVID-19 vaccination is mandatory for all athletes. Because Valle has not provided proof of being vaccinated, the email states her daughter cannot be part of the team and cannot compete in the games.
—Kate Santich, Orlando Sentinel
11:33 am
De Blasio urges NY Mayor Adams to keep his COVID policies on standby: 'You may need them real soon'
NEW YORK — Bill de Blasio doesn't want Mayor Eric Adams to turn the page on his signature pandemic policies just yet.
As COVID-19 cases continue to tick up across the five boroughs, the former mayor urged his successor Friday to be ready to rapidly reimplement some of the public health restrictions he has scrapped since taking over the helm at City Hall.
Careful not to directly knock Adams, de Blasio said he "won't criticize" the mayor's decision to rescind the Key2NYC indoor vaccine mandate and the public school face mask mandate earlier this year.
"But I'd say this as a friendly reminder: Keep those strong tools available. You may need them real soon," de Blasio said in an appearance on WNYC.
10:21 am
Oregon puts schools on notice about COVID spread, stops short of recommending masking
Oregon officials asked schools to prioritize in-person learning amid rising COVID-19 infections by monitoring spread of disease in their community and absenteeism, offering testing and recommending or even mandating masks before moving to remote learning.
In effect through Aug. 31, the state's health advisory also recommends universal masking if a school is in a county where the federally defined risk level is "high." No Oregon counties have reached that level, though six, including the three metro area counties, are in the "medium" risk level.
The state's warning comes amid rising coronavirus cases, a previously predicted bump brought on by the highly infectious omicron BA.2 subvariant and the lifting of mask restrictions. Hospitalizations are rising, too, and are predicted to peak around 320 within about a month.
—Fedor Zarkhin, oregonlive.com
9:28 am
Whitman County's COVID cases are up, with most in congregate settings
COVID-19 cases in Whitman County have spiked in recent weeks, with a majority of the new infections have been in congregate settings, said the director of the county's public health department.
Chris Skidmore said that for the week of May 3-9, the county had approximately 50 new cases; the week before that, from April 26-May 2, there were about 75 new cases.
"The vast majority of those cases have been in congregate settings — long-term care, child care, school setting," Skidmore said Friday.
—Matt Baney, Lewiston Tribune
8:42 am
4 Air Force cadets may not graduate due to vaccine refusal
WASHINGTON (AP) — Four cadets at the Air Force Academy may not graduate or be commissioned as military officers this month because they have refused the COVID-19 vaccine, and they may be required to pay back thousands of dollars in tuition costs, according to Air Force officials.
It's the only military academy, so far, where cadets may face such penalties. The Army and Navy said that as of now, not one of their seniors is being prevented from graduating at the U.S. Military Academy at West Point, New York, or the Naval Academy in Annapolis, Maryland, due to vaccine refusals. The graduations are in about two weeks.
—Lolita C. Baldor, The Associated Press
8:07 am
Judge tosses COVID vaccine objections of Hanford workers
A federal judge has dismissed a lawsuit brought by several hundred Hanford nuclear reservation and Pacific Northwest National Laboratory workers in Richland over COVID-19 vaccine requirements.
The lawsuit was filed in November to halt enforcement of President Joe Biden's executive orders requiring COVID-19 vaccinations for Department of Energy employees and the employees of contractors and subcontractors on federal projects, The Tri-City Herald reported.
But U.S. Judge Thomas Rice found that lawyers for the Hanford and national lab workers had not provided clear arguments nor specific information about most workers to make their case.
—The Associated Press
8:00 am
South Africa in new surge of COVID from versions of omicron
JOHANNESBURG (AP) — South Africa is experiencing a surge of new COVID-19 cases driven by two omicron sub-variants, according to health experts.
For about three weeks the country has seen increasing numbers of new cases and somewhat higher hospitalizations, but not increases in severe cases and deaths, said Professor Marta Nunes, a researcher at Vaccine and Infectious Diseases Analytics at Chris Hani Baragwanath Hospital in Soweto.
"We're still very early in this increase period, so I don't want to really call it a wave," Nunes said. "We are seeing a slight, a small increase in hospitalizations and really very few deaths."
South Africa's new cases have gone from an average of 300 per day in early April to about 8,000 per day this week. Nunes says the actual number of new cases is probably much higher because the symptoms are mild and many who get sick are not getting tested.
—Andrew Meldrum, The Associated Press
Seattle Times staff & news services