This daily round-up brings you a selection of the latest news and updates on the COVID-19 coronavirus pandemic, as well as tips and tools to help you stay informed and protected.
Top stories: India's vaccine campaign slows as output exceeds dose gap; Latvia announces COVID-19 lockdown; EU has exported more than a billion vaccine doses, says von der Leyen.
1. How COVID-19 is affecting the globe

Confirmed cases of COVID-19 have passed 241.1 million globally, according to Johns Hopkins University. The number of confirmed deaths stands at more than 4.9 million. More than 6.68 billion vaccination doses have been administered globally, according to Our World in Data.
New Zealand as reported its highest single-day rise in COVID-19 cases since the pandemic begun, with 94 new COVID-19 infections reported today.
Many Russian regions have announced plans to keep cafes, museums and other public spaces only open to those who have recently recovered from COVID-19, have proof of vaccination or a negative COVID-19 test.
Burundi has rolled out its first COVID-19 vaccines, with the vaccination campaign getting underway in the commercial capital of Bujumbura.
Europe's drugs regulator has approved two new manufacturing sites for producing the COVID-19 vaccine developed by Pfizer/BioNTech.
More than a billion COVID-19 vaccines produced in the European Union have been exported since December 2020, European Commission President Ursula von der Leyen said yesterday.
2. Latvia announces COVID-19 lockdown
Latvia has announced a COVID-19 lockdown, that will run from 21 October until 15 November, in an effort to slow rising infections.
"Our health system is in danger… The only way out of this crisis is to get vaccinated," Prime Minister Krisjanis Karins said, blaming low vaccination rates for the spike in hospitalizations.
Only 54% of Latvian adults have been fully vaccinated, EU figures show. The EU average is 74%.
"I have to apologize to the already vaccinated," Karins said, announcing that shops, restaurants, schools and entertainment will be closed, with only essential services available and a curfew in place from 8pm to 5am. Only essential manufacturing, construction and critical jobs will be allowed to continue in person.
3. India's vaccine effort slows as dose gap trumps output jump
India's vaccination campaign has slowed despite amassing record stockpiles of vaccine, health ministry data showed on Monday, as authorities maintain a wider-than-usual gap between doses in a strategy that has boosted coverage.
Domestic production of the AstraZeneca vaccine, which accounts for nearly 90% of administered doses, has more than tripled since May, when a supply shortage prompted India to double the period between doses to between 12 and 16 weeks.
That gap, exceeding the 8 to 12 weeks recommended by the World Health Organization, has allowed India to give at least one vaccine dose to 74% of its 944 million adults, with just 30% getting the full complement of two.
Each of our Top 50 social enterprise last mile responders and multi-stakeholder initiatives is working across four priority areas of need: Prevention and protection; COVID-19 treatment and relief; inclusive vaccine access; and securing livelihoods. The list was curated jointly with regional hosts Catalyst 2030's NASE and Aavishkaar Group. Their profiles can be found on www.wef.ch/lastmiletop50india.
Top Last Mile Partnership Initiatives to collaborate with: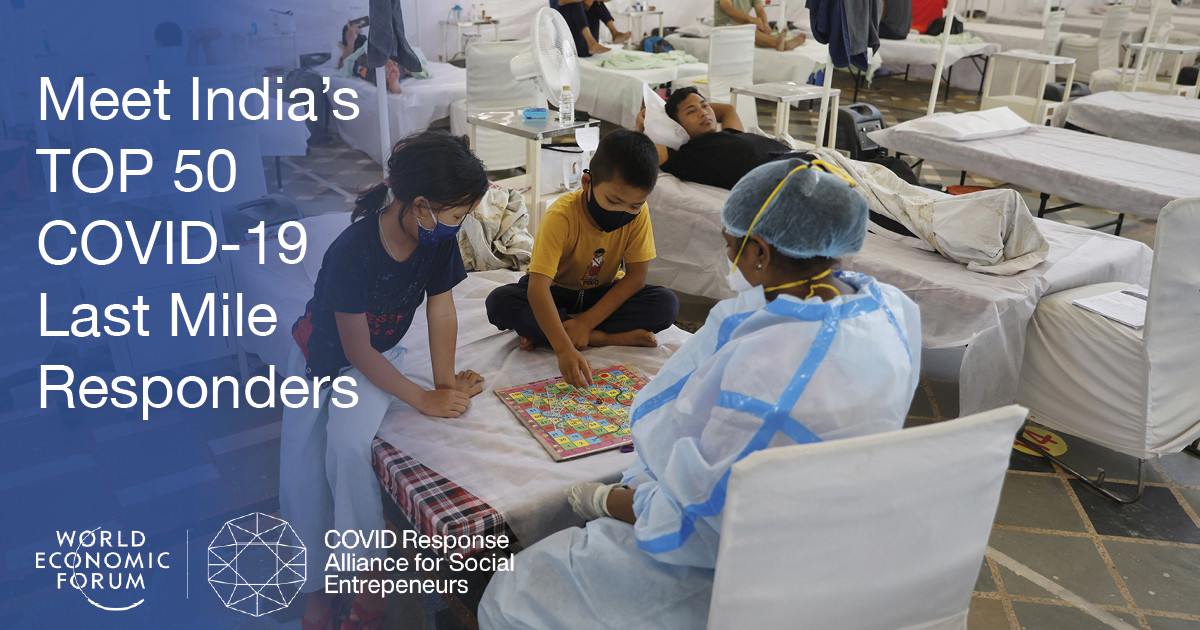 The AstraZeneca vaccine, known as Covishield, accounts for 861 million doses of India's total injected figure of 977.6 million, while its other main vaccine, Covaxin has a dose interval of four to six weeks.
Over the last few days, daily stocks of all COVID-19 vaccines have exceeded 100 million doses, the health ministry figures show, for states and federally controlled territories taken together.
In contrast, daily vaccinations have dropped to an average of 5 million doses this month and even less in the past week, off a daily peak of 25 million last month.
The ministry said it followed recommendations from a group of experts in making any changes to dosage, arrived at by weighing up "scientific and empirical" evidence.