This daily round-up brings you a selection of the latest news and updates on the COVID-19 coronavirus pandemic, as well as tips and tools to help you stay informed and protected.
Top stories: Moscow imposes new COVID-19 restrictions; US study finds Pfizer/BioNTech vaccine highly protective in 12-18-year-olds; record daily rise in COVID-19 cases in Singapore and Romania.
1. How COVID-19 is affecting the globe

Confirmed cases of COVID-19 have passed 241.6 million globally, according to Johns Hopkins University. The number of confirmed deaths stands at more than 4.91 million. More than 6.7 billion vaccination doses have been administered globally, according to Our World in Data.
COVID-19 travel restrictions between Sydney and Melbourne have been eased, as Victoria opened its borders to fully vaccinated residents of New South Wales.
COVID-19 hospitalizations have risen for the third consecutive day in France – a trend not seen for almost two months, health authorities said.
New confirmed COVID-19 cases in the Netherlands rose 44% in the week through Tuesday, with some hospitals cutting back on regular care to deal with the increase in infections.
Bulgaria will make a COVID-19 'Green Certificate' mandatory for indoor access to restaurants, cinemas, gyms and shopping malls. The pass shows someone has been vaccinated, tested negative or recently recovered from the virus.
Singapore has reported 3,994 new cases of COVID-19, the highest daily rise since the beginning of the pandemic.
2. Moscow imposes new COVID-19 restrictions
Moscow's mayor has announced four months of stay-at-home restrictions for unvaccinated over-60s and the national government has proposed a week-long workplace shutdown. The moves come as the national death toll from COVID-19 hit another record daily high.
"The number of people hospitalized with a severe form of the disease is increasing every day," Mayor Sergei Sobyanin wrote on his website.
"The most alarming thing is the situation with COVID infection among the older generation," he added, saying over-60s accounted for 60% of patients, nearly 80% of people on ventilators, and 86% of deaths.
He ordered those over the age of 60 to stay at home for four months from 25 October, unless they've been vaccinated or have recovered from COVID-19, and for businesses to move at least 30% of their staff to remote work.
Each of our Top 50 social enterprise last mile responders and multi-stakeholder initiatives is working across four priority areas of need: Prevention and protection; COVID-19 treatment and relief; inclusive vaccine access; and securing livelihoods. The list was curated jointly with regional hosts Catalyst 2030's NASE and Aavishkaar Group. Their profiles can be found on www.wef.ch/lastmiletop50india.
Top Last Mile Partnership Initiatives to collaborate with: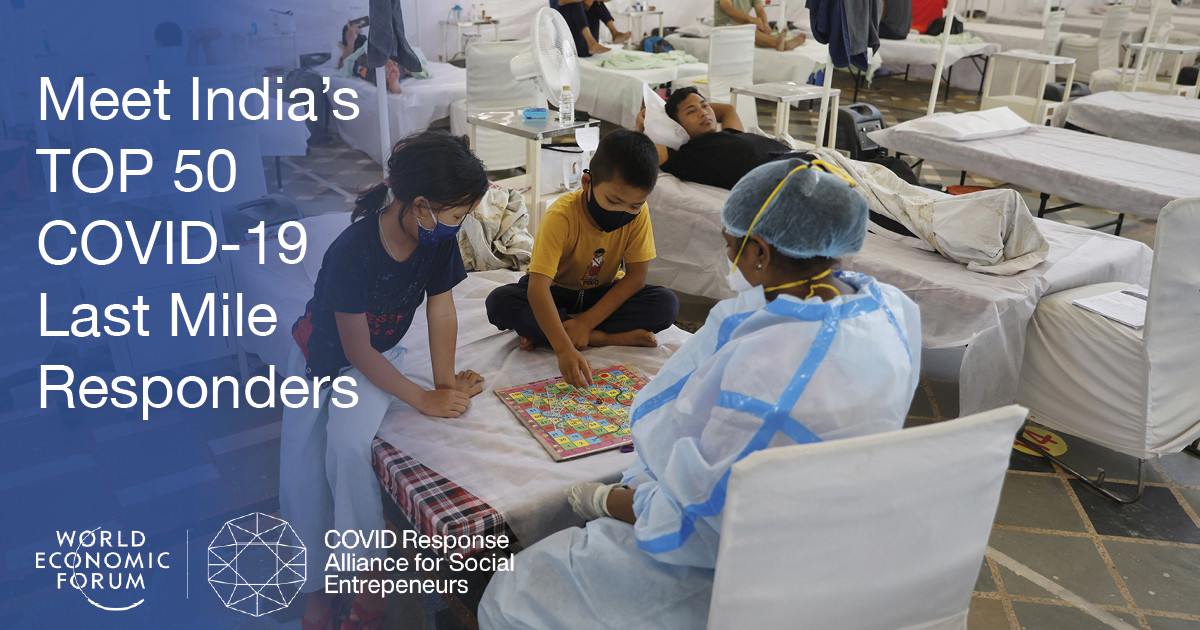 3. Pfizer/BioNTech vaccine highly protective in 12-18-year-olds – US study

The Pfizer/BioNTech COVID-19 vaccine was 93% effective in preventing hospitalizations among those aged 12 to 18, according to analysis released by the US Centers for Disease Control and Prevention (CDC).
The study took place between June and September when the Delta variant was dominant in the United States.
Also reassuring was that the data from 19 paediatric hospitals showed that among the 179 patients who were hospitalized for COVID-19, 97% were unvaccinated, demonstrating the vaccine's efficacy. Of the roughly 16% of patients hospitalized with severe enough COVID-19 to require life support, none were vaccinated.
The CDC data "reinforces the importance of vaccination to protect US youths against severe COVID-19," the study authors said.