This daily round-up brings you a selection of the latest news and updates on the COVID-19 coronavirus pandemic, as well as tips and tools to help you stay informed and protected.
Top stories: Lockdown set to be eased in Sydney; infections dropping in the Americas; EU public health authority suggests dropping traffic light travel system.
1. How COVID-19 is affecting the globe

Confirmed cases of COVID-19 have passed 236.5 million globally, according to Johns Hopkins University. The number of confirmed deaths stands at more than 4.82 million. More than 6.39 billion vaccination doses have been administered globally, according to Our World in Data.
Canada will require all passengers aged 12 and over on trains, planes and marine transport operating domestically to show they've been vaccinated against COVID-19 from 30 October. Federal employees will also have to declare their vaccination status.
The US government is set to purchase an additional 180 million rapid COVID-19 tests at a cost of $1 billion. It comes in addition to the $2 billion test-buying plan it announced last month.
The UK has dropped its advice against all but essential travel to 32 countries and territories. However, the advice remains in place for a number of places – including Brazil, Mexico, South Africa and Thailand.
Sweden and Denmark have announced they're pausing the use of the Moderna COVID-19 vaccine for younger age groups after reports of possible rare cardiovascular side effects. A Moderna spokesperson said: "These are typically mild cases and individuals tend to recover within a short time following standard treatment and rest. The risk of myocarditis is substantially increased for those who contract COVID-19, and vaccination is the best way to protect against this."
Bharat Biotech has announced it has submitted data from its COVID-19 vaccine trial in children aged 2-18 to India's drug regulator. It's the country's first company to have tested its jab in very young children.
The EU's public health agency is proposing revising COVID-19 travel rules, which would ease restrictions for vaccinated people and drop a colour-coded system.
2. Sydney set to lift lockdown
Australia's largest city looks set to exit a four-month lockdown from Monday after hitting its 70% full vaccination target.
Fully vaccinated people in Sydney's home state of New South Wales will be able to leave their homes for any reason, including visits to pubs, shops, cinemas and gyms, which will reopen under strict social distancing rules.
The number of vaccinated visitors allowed to gather in a home will double to 10, while the limit on vaccinated people at weddings and funerals will be raised to 100. Nightclubs can partially reopen to vaccinated people once inoculations reach 80%, earlier than previously planned, and masks will not be mandatory in offices.
The state will use a vaccination-passport system to ensure those who have not been fully inoculated remain under strict stay-at-home orders until 1 Dec.
"Vaccination is the key to our freedom and the sacrifices and the effort of people right across NSW have ensured that we can open up as quickly and safely as possible," State Premier Dominic Perrottet told reporters in Sydney.
Each of our Top 50 social enterprise last mile responders and multi-stakeholder initiatives is working across four priority areas of need: Prevention and protection; COVID-19 treatment and relief; inclusive vaccine access; and securing livelihoods. The list was curated jointly with regional hosts Catalyst 2030's NASE and Aavishkaar Group. Their profiles can be found on www.wef.ch/lastmiletop50india.
Top Last Mile Partnership Initiatives to collaborate with: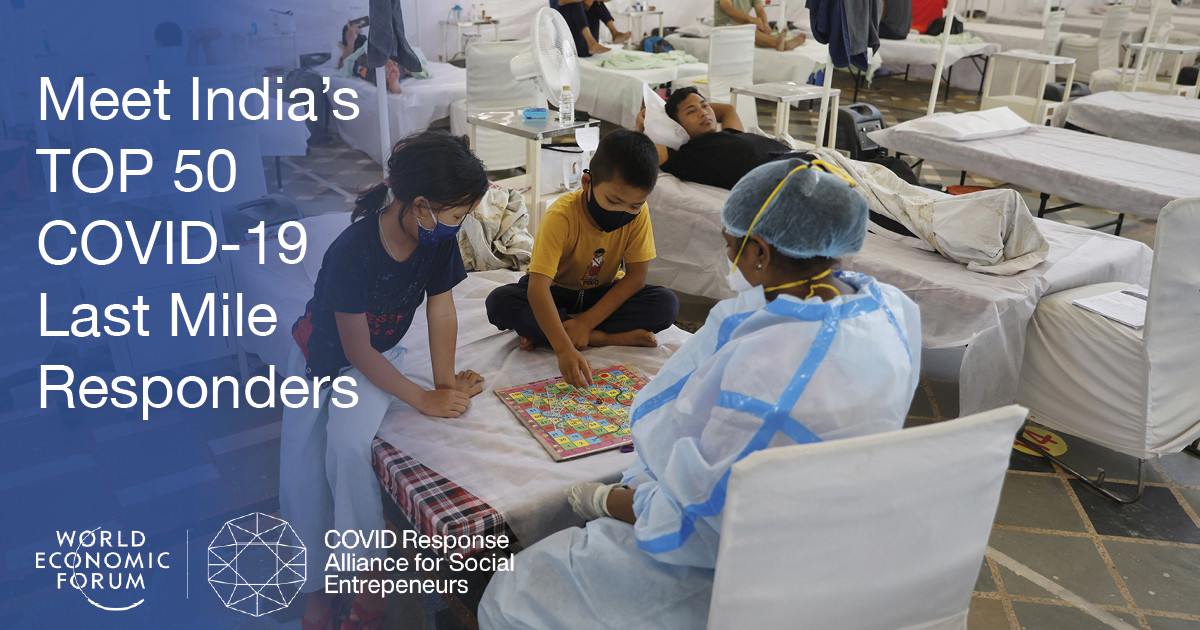 3. COVID-19 infections dropping in the Americas, but more vaccines needed

The Pan American Health Organization (PAHO) said yesterday that the number of new COVID-19 infections has been dropping over the last month throughout the Americas. This is despite just 37% of people in Latin America and the Caribbean being fully vaccinated.
In the last week, 1.2 million people were confirmed with COVID-19 in the region, down from 1.5 million new cases the previous week.
But, cases are rising in some areas, and gaps in vaccination coverage remain a concern.
Jamaica, Nicaragua and Haiti have yet to reach even 10% vaccination coverage, the PAHO said. "We must focus our attention to close this gap as quickly as possible," Director Carissa Etienne told reporters
The organization urged countries with surplus vaccines to share doses.