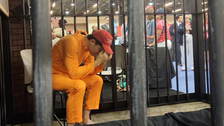 At the Conservative Political Action Meeting this week in Dallas, attendees can gaze on a bizarre show in which an actor, pretending to be a Jan. 6 rioter, sobs in a jail cell.
Journalist Laura Jedeed documented the confounding MAGA booth Friday and described is as "the most astonishing thing" she's at any time witnessed.
"At this CPAC booth you get a silent disco headset that performs harrowing testimony from the individuals arrested for participating in J6," she tweeted. "Instead of dancing, you stand about and look at this dude cry."
(Enjoy online video of the effectiveness in the participant previously mentioned.)
"What I require you to recognize is that I stood below for about 50 percent an hour yesterday and this person Never broke character," Jedeed added, seeming truly impressed by the actor's motivation to the job.
"He wept sitting down on the bench. He wept sitting on the ground. He tallied days on a chalkboard established up for the objective."
Straka's group did not answer to an e mail seeking clarity on the exhibit's indicating. Presumably, nevertheless, it wasn't a real expression of regret for taking part in a violent attack on the U.S. Capitol and a tacit admission that steps have consequences.
The Fort News