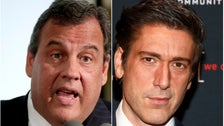 ABC News anchor David Muir shut down Chris Christie's attempt to review the 2000 and 2016 presidential election success with the GOP-backed attempt to overturn the electoral vote count on Jan. 6, 2021.
Christie, a former New Jersey governor who headed Donald Trump's presidential transition team, claimed former Secretary of Condition Hilary Clinton in 2016 and supporters of then-Vice President Al Gore in 2000 refused to settle for the "legitimate" final results of their presidential defeats prolonged prior to Jan. 6.
Clinton conceded pursuing the 2016 election and Gore acknowledged his 2000 reduction immediately after a Florida recount struggle.
"This is a incredibly risky factor in this nation, which was introduced to a new level in 2020 by Donald Trump and his marketing campaign," Christie stated.
"I just never want our viewers to imagine I'm not mindful that there is not a true equivalency in this article when you have a previous president who is sowing seeds of question," Muir explained.
The Fort Information