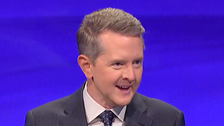 "Jeopardy!" viewers jumped to Twitter this week to weigh in on how the demonstrate taken care of two contestant's responses – and scored them otherwise – in the course of an episode that aired on Monday.
The questions around the show's regulations adhere to a reaction from contestant Stephen Webb, who won his eighth-straight match on Thursday, as he took a shot at host Ken Jennings' clue about "the corpse flower," Newsweek described.
"Is that the corpse blossom? What's the corpse blossom, corpse flower?" Webb said in response to Jennings on Monday.
Jennings authorized the reaction but a person contestant, Karen Rittenbach, unsuccessful to get details in reaction to a clue about Harry Chapin's strike song "Cats In The Cradle."
"What's Cat's Cradle?" Rittenbach responded prior to Jennings stated "no."
"What's 'Cats in the Cradle'?" she ongoing.
"I'm sorry, Karen, I'd now ruled from you by the time you corrected yourself," Jennings replied.
Fans jumped to Twitter to tackle the two contestants' responses.
The variation in the ruling of the two contestants' responses, as echoed by some Twitter people, stems from a rule that states "contestants may perhaps improve their responses as long as neither the host nor the judges have produced a ruling."
"IMO Ken is in fact really fantastic at running this in the minute, if the contestant has concluded their response (like Karen w/ Cat's Cradle) he typically policies promptly before they rephrase it," wrote Nelson, who is known as a "Jeopardy Style Connoisseur."
"But he waits more time if the solution is partly right and just needs more information."
She added that Webb has been "quick to squeeze in numerous versions of an answer" even though it's inside the guidelines of the exhibit.
The Fort Information