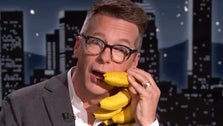 "I'm on the cellphone ideal now," Johnson stated, cellphone to his ear as he walked speedily.
"No you're not," NBC Information reporter Frank Thorp V replied. "I can see your cell phone. I can see your screen."
Hayes laughed at the footage.
"Once yet again, Ron's caught with his Johnson in his hand," he cracked.
Hayes supplied a cost-free lesson in how it's actually carried out:
The Fort News