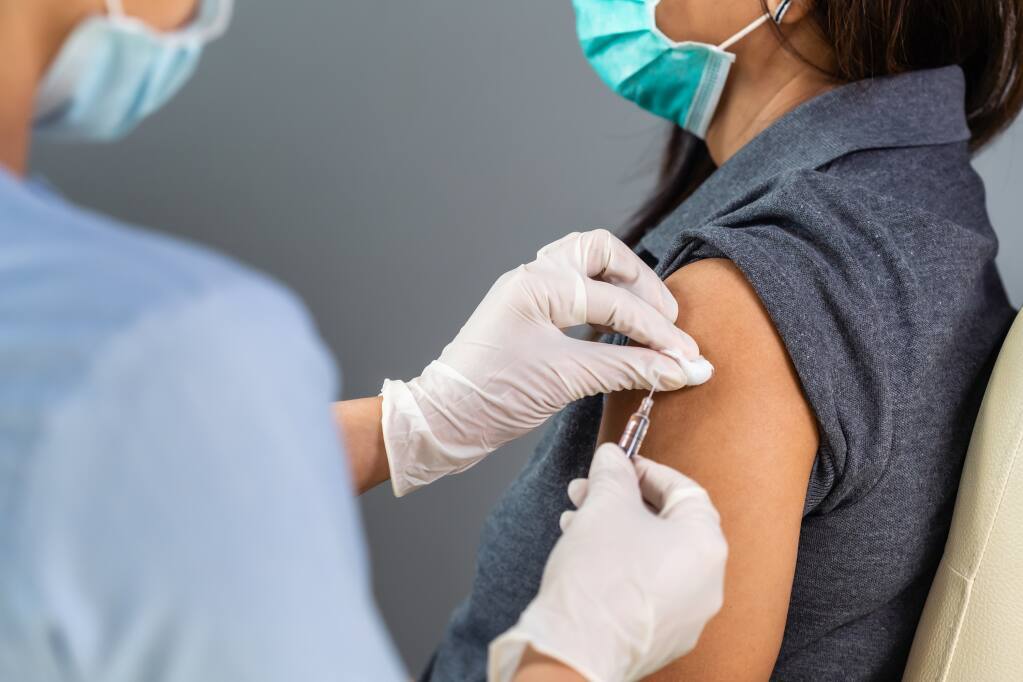 The Christmas and New Year's bump in new COVID-19 cases — a deadly trend that has plagued the North Bay since the start of the pandemic — apparently did not happen this time.
In the three weeks since the Christmas holidays, county public health staff "have not observed a noticeable increase in influenza or COVID-19 in the population," said Dr. Sundari Mase, the county's health officer.
"In fact, there appears to be a downward trend in influenza and no apparent increase in COVID-19 case rates at this time," Mase said in an email.
Mase said monitoring COVID-19 transmission through PCR testing alone has become increasingly difficult because fewer people are getting tested. The best indicator of current COVID-19 infection in the local community comes from monitoring the presence of the virus in wastewater samples.
"That surveillance appears to indicate that the level of COVID-19 in our community remains elevated, but is at least holding steady," she said. "We are also not seeing a spike in hospital admissions among individuals with COVID-19 or influenza."
Mase expressed caution, however, because the evolution of the COVID-19 virus, SARS-CoV-2, has proven difficult to predict, with so many variants and subvariants vying for dominance.
"We are still in the initial phase of the most rapidly spreading variant, XBB. 1.5, which has been shown to be a highly transmissible subvariant of Omicron," she said. "We continue to advise people to take sensible precautions, particularly if they are elderly or immunocompromised."
Still, infectious disease experts who have been tracking trends in the pandemic for the past three years, are optimistic.
Dr. John Swartzberg, an infectious disease expert at UC Berkeley, said that while there's still a good deal of COVID-19 virus in the Bay Area, we've so far dodged the huge winter spike in transmission of the past two years.
"I'm optimistic that we're going to avoid anything catastrophic like we saw the last two years, the last two winters," Swartzberg said.
During previous winter surges, COVID-19 cases started increasing around late December and peaked in the middle of January before coming down, he said. Those increase were driven by new COVID-19 variants and spread during holiday gatherings.
"People are not taking the same degree of precautions at all compared to a year ago, and yet we're not seeing a big bump in cases," Swartzberg said.
Adding to his optimism, it appears the new variant that is quickly becoming dominant in the country, XBB. 1.5, though highly transmissible does not cause as severe disease as the delta variant, he said. Even so, roughly 450 COVID-19 deaths occur every day in the United States.
"When you multiply that by 365, you come up with a number of well north of 120,000 deaths," Swartzberg said. "That will be close to half of what we had in the previous year, but it's four times what we would see in an average influenza year. (COVID-19) is the third leading cause of death in the United States."
Dr. Gary Green, an infectious disease specialist with Sutter Santa Rosa Regional Hospital, pointed out that even though it was a particularly bad flu season, COVID-19 led to two-to-three times more deaths across the country. The flu, on average, kills between 30,000 and 80,000 Americans each year, he said.
"We're still seeing COVID hospitalizations, not as not as much as we have in the past and certainly not a surge, but we're still seeing persistent COVID cases hospitalized and some people are surviving," Green said.
County health officials said that from just after Thanksgiving to the present, there has been an "elevated and sustained presence" of SARS-CoV-2 in wastewater samples from both the Santa Rosa/Rohnert Park area and Petaluma. There was an increase in detection observed around the Christmas holiday in Petaluma but it's since come down slightly, according to county data.
Influenza and COVID-19 hospitalizations peaked in Nov. 28, with 118 people hospitalized for COVID-19 and/or the flu. After declining around Christmas, they rose slightly to 70 in early January. They've decreased since then, and as of Jan. 19 there were 26 COVID-19 patients and three flu patients hospitalized, the county said.
Even with the improving conditions, county officials continue to recommend precautions.
"Wearing a mask in indoor public spaces, staying up to date on your vaccinations, and staying home when sick are the best means of protecting yourself and the most vulnerable members of our community for the remainder of the winter," Mase said.
You can reach Staff Writer Martin Espinoza at 707-521-5213 or martin.espinoza@pressdemocrat.com. On Twitter @pressreno.