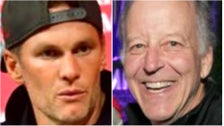 Tom Brady threw F-bombs at podcast companion Jim Gray on Monday for inquiring him about his long run. (Look at the online video beneath.)
On "Let's Go!" Grey requested the quarterback if he experienced a timetable for earning a determination. Brady, 45, is now a absolutely free agent immediately after his Tampa Bay Buccaneers had been eradicated in the wild card round of the playoffs.
"Jim, if I understood what I was going to fucking do, I'd have now fucking done it," Brady snapped.
"I feeling you are antagonized by the issue," Grey replied.
Brady appeared to lighten up a tad at that position, stating, "You're scratching. I respect you asking. Thank you."
The lately divorced seven-time Tremendous Bowl winner, who retired and then unretired prior to the year, is at another crossroads. He finished 18th in quarterback ranking for the sub-.500 Bucs, and their offense sputtered in the playoff decline to Dallas Cowboys on Jan. 16.
The Fort Information